Pre-NEW YEARS's MMA fight on Dec.29th, 2018 🎆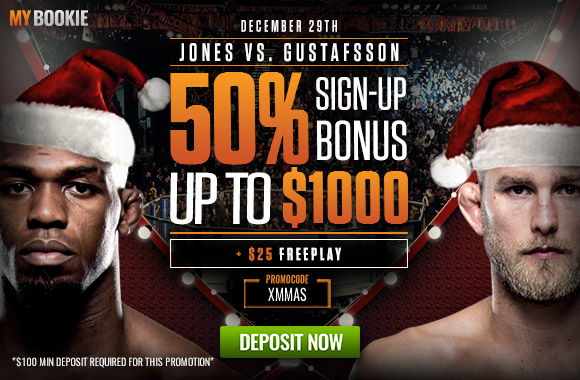 Hi Walter,

"Yippee ki–yay", fight fans!

UFC 232 Jon (Bones) Jones vs Alexander Gustafsson 2, is happening tonight, Saturday, Dec.29th for the UFC light heavyweight championship belt.

Will Jones prevail over Gustafsson again? Certainly a lot of controversy surrounds Jones's positive/negative (PEDs) test which had the Nevada Athletic Commission (NAC) stumped and not able sanction Jones to fight in Las Vegas. Since that moment back on Dec.23rd the UFC moved this fight to The Forum in Los Angeles.

These two fought way back in 2013. Gustafsson battled Bones Jones, but Jones won via unanimous decision. Since then, Gustafsson's fought great. He's won 3-of-5. One of the losses was a Round 5 decision to Daniel Cormier.

Gustafsson believes he's good enough to hang with the favored Jones. Jones beat Cormier in his last fight via a Round 3 KO. However, that rumble took place way back on July 29, 2017. There's no telling if he's ready since being away from the ring for so long.

Gustafsson gets the nod only because of that. It makes sense to take a swing on a plus +245 dog battling a fighter that hasn't stepped into the Octagon in over a year and a half. Check out the current line that keeps moving Jones's way.

Alexander Gustafsson vs Jon Jones

Gustafsson +245 / Jones -300

If you need a sign SIGN-UP BONUS to get in on this action. Here is a 50% sign-up bonus on your first deposit, plus earn an additional $25 freeplay on deposits of $100 or more using promo code XMMAS.

MYBOOKIE's Odds are Live, check the UFC News section for insights.

Important notes: Minimum deposit of $100.00 or more to trigger offer. Make sure you click "Yes" under "Claim a Bonus?", then confirm "Yes", then click "Add a Promo Code" and enter the code into the box. Then click the green "REDEEM" button in the cashier to activate it. Offer expires on Dec. 30th at 23:59 ET.